30 Day Home Makeover
My local real estate agent, Jim, referred me to my latest project management client. The vendor Jeff had just accepted a new job in Sydney and had to relocate in 2 weeks.
Jeff's problem – he needed to sell his home and he needed to sell it fast! Jeff's biggest problem – his 1970's house was still in its original condition and he didn't have time to get it ready for market.
So I met with Jeff and told him how Houses to Impress could take care of his whole house renovation for him, eliminate the stress and leave him free to concentrate on the big move.   I assessed the property while I was there and gave Jeff my expert opinion on what needed to be done to bring his 1970's home into the 21st century so we could attract some serious buyers in this very tough market.
Jeff was willing to invest some money in some home improvements as he hadn't done any upgrades since he moved into the house in 1983. He was well aware that it would be very difficult to sell the house in its present condition, in the current slow market.  Jim, the real estate agent, appraised the house "as is" at $280,000 – $300,000. I did a quick calculation on the upgrades that were required and estimated that to fully renovate and style the house for sale would cost about $20,000 – $25,000. Jeff was prepared to spend that amount to ensure he could sell his home fast and for a higher price. I discussed my planned renovation ideas with Jim, the agent, and after doing some comparisons for the area we both agreed that the market price "after reno" would sit in the range of $330,000 to $350,000.
Jeff was happy with these estimated figures and gave me the go ahead to project manage the cosmetic renovation. I immediately got to work with a plan that would enable me to get the whole job done in 30 days.

Step 1 – Renovation Plan
Kitchen
Remove old narrow style kitchen
Get electrician to install new power points
Install new kitchen
Remove old freestanding stove and replace with new oven, cooktop and range hood
Install new sink and modern flick mixer tap
Install tile splash back
Bathroom
Remove and replace old shower screen
Remove old style vanity and replace with a new corner unit
Resurface existing wall tiles
Resurface existing floor tiles
Get electrician to install new 3 in 1 heat/lamp/light and replace power points
Toilet
Resurface existing floor tiles
Replace cistern and toilet seat
Laundry
Resurface existing floor tiles
Paintwork – Interior
Repair minor cracks and gaps in cornices in most rooms
Paint all ceilings
Paint all walls
Prime and paint wall paneling in main lounge room (same colour as walls)
Paint all door and window trims
Paintwork – Exterior
Spray Paint old galvanised fences
Spray Paint shed
Paint some areas of timber gables at front and rear of property where needed
Main bedroom
Remove old doors from built-in robe
Install new doors, frame and return on built-in robe
Bedroom 3
Remove built in desk and bookcase to open up the space
Flooring
Remove 70's shagpile carpet from bedrooms, lounge/dining and hallway
Replace with new Godfrey Hirst textured loop stainmaster
Lay new vinyl (over top of old vinyl) in kitchen
Gardening and exterior improvements
Remove weeds from old garden beds
Place bamboo screening on one section of fence to hide ugly fence
Add low maintenance plants to rear garden beds
Add eco mulch to all garden beds over top of existing scoria
Trim back all shrubs in front garden
Repair small sections of wood rot in front windows and paint
Remove amber glass from front courtyard area and replace with timber slats to match existing features in courtyard
Paint letterbox
One of the main keys to success in project management is great planning and organisation. Next step will be gathering my dream team of tradies and coordinating the work to fit in with my home makeover schedule.
See some teaser photos below!!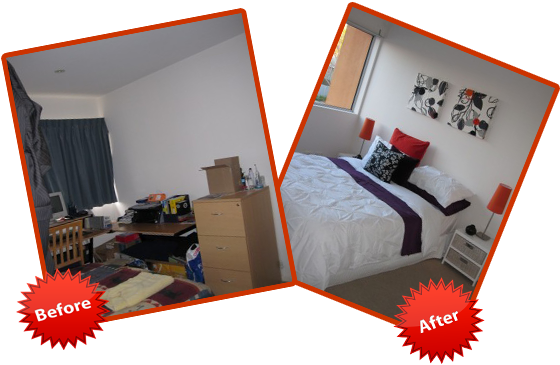 Learn how to turn $4,000 into $40,000 in one day with our Fast property Transformation report! Click here to Find out more!